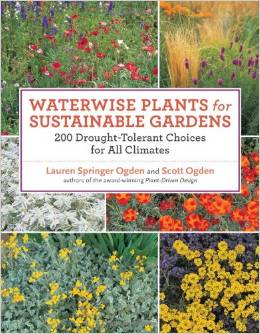 As restrictions make water more precious and increasingly expensive having a beautiful garden becomes more difficult. Waterwise Plants for Sustainable Gardens by the husband and wife team, Lauren and Scott Ogden, provides detailed information on plants that will survive drought and make gardening a rewarding experience even in areas experiencing severe water shortages. All of the plants described will remain attractive with an inch of water every two weeks during the hottest part of peak growing season once they are fully established.
The plants are presented by type: trees, shrubs, perennials, ground covers, grasses, sedges, bulbs and their relatives, vines, annuals, biennials, and short-lived perennials, succulents and cacti, palms and cycads, and fiber plants (such as yucca and agave). A whole page is devoted to each plant and includes a photograph, size, hardiness zones, special attributes, design ideas, and related low-water plants when available. Tolerance to heat and humidity is noted and native plants are identified. Symbols located directly beneath the plant name tell us at a glance about light requirements, tolerance to brief periods of standing water, deer tolerance, and attractiveness to bees, butterflies and hummingbirds. We learn, for example, that sea lavender (Limonium platyphyllum) is a sun-loving evergreen perennial that tolerates brief periods of standing water, and attracts bees. It grows two feet high and wide, grows best in zones 4-7 but also in 8-10 on the West Coast. The flowers form a light purple cloud, dry well, and look good with midsize grasses, white angel's trumpet and rose bracted oreganos. German statice (Goniolimon tataricum) which blooms earlier with white flowers, can be substituted. That's a lot of very helpful information if you are planning a garden!
If your looking for plants that do well in a garden with water restrictions, this book will provide you with the information you need to make the best selections. Whether you are looking for perennials or trees, sun loving or shade tolerant plants, ground covers or a spring display of bulbs, there is material here to fill your needs. And for those of us that have trouble building plant combinations there is a wealth of suggestions. This is a very valuable addition to the garden library and will be used for years to come as more pressure is brought to bear on our water resources.
To buy Waterwise Plants for Sustainable Gardens: 200 Drought-Tolerant Choices for all Climates from Amazon.com click here.