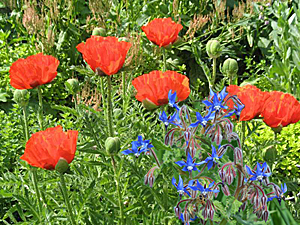 The beauty of a poppy flower is breath taking but fleeting and when it is gone you are left with a mess but still, it was worth it. Combine a fabulous red oriental poppy such as 'Beauty of Livermere' with a long blooming blue companion such as borage and you have an outstanding combination for the sunny border. The show begins in the spring when the poppy's deeply divided hairy foliage emerges from the ground. Soon the large buds are produced and open into the flamboyant flowers with their crepe papery petals. Meanwhile the annual borage produces is gray-green leaves followed by small bright blue flowers that contrast with the poppy flowers in size shape and texture. The poppy will disappear but the borage will continue for weeks providing color and soft texture with both flowers and foliage. Plan in advance and plant an expanding perennial such as Gypsophila or Boltonia nearby and it will fill in the space left by the poppy. Both plants do well full sun and average moisture although the borage tolerates some drought.

Oriental Poppy (Papaver orientale) 'Beauty of Livermere'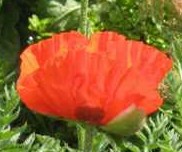 The vivid scarlet flowers of 'Beauty of Livermere' are 4-6" across and have a dark purple splotch at the base of each petal. Each plant will produce several flowers that last a few days. The foliage disappears after flowering but reappears in the fall as a small tuft that will grow again in the spring. Oriental poppies do not tolerate heat and humidity and are best planted in cool areas of zones 7 and north.
Bloom Time: Early summer
Size: 24-36" H x 18-24" W
Hardiness: Zones 2-7

Borage (Borago officinalis)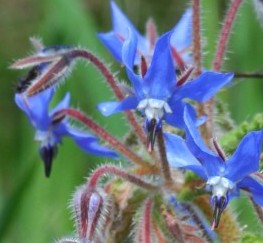 Borage is a "two for one" plant offering the blue tones of its flowers and foliage as well as some culinary treats. Both the flowers and leaves have a cucumber flavor; the leaves can be used in cold drinks, salads, or cooked as a green like spinach. Flowers can be crystallized to serve as a garnish. The plants tend to sprawl and are more so if planted in the shade.
Bloom Time: Summer for about 8 weeks
Size: 12-36" H x 8-18" W
Hardiness: Annual