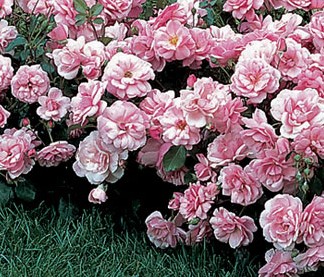 An edging along a flower bed gives structure and definition to the bed. It also has the practical purpose of helping to keep the grass in its place on one side, and the flowers in place on the other. Edgings can be made of many things including stone, brick, and metal, but an edging of plant material creates a softer edge and can greatly enhance the garden. Low growing roses can make a very attractive edging offering a variety of color over a long bloom period.
These five roses are excellent choices for edging a border, patio, driveway, or walkway.

Debut (Douce symphonie)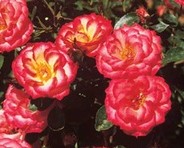 The flowers change color from pale yellow with white backs and crimson edges to creamy white and pink. Flowers in various stages of the color change are present on the bush as the same time creating an usual and breath-taking look. The flowers are borne in small clusters of 3-7 and the bush repeat well. Leaves are dark green, glossy, and healthy.
Type: Miniature
Color: Red and white
Size of Bush: 12-24" H x 1.6′ W
Size of Bloom: 1.4"
Fragrance: Little or none
Hardiness: Zone 6

'China Doll'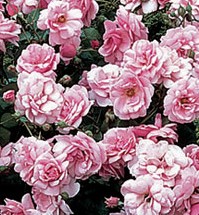 The petals of the semi-double flowers are pink with white backs and have a ruffled edge. The flowers are borne in large long lasting clusters and repeat so quickly that the bush is rarely out of bloom. Dark green, matte, healthy leaves are borne on stems with few or no prickles. The bush is compact and tolerates poor soil.
Type: Polyantha
Color: Pink
Size of Bush: 1.6' H x 3.3' W
Size of Bloom: 2"
Fragrance: Light and musky
Hardiness: Zone 5

'Gourmet Popcorn"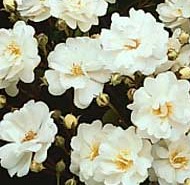 Creamy buds open to cupped, semi-double white flowers borne singly or in cluster. The bush blooms almost continuously and bears large mid-green leaves.
Type: Miniature
Color: White
Size of Bush: 18-28" H 18" W
Size of Bloom: 1"
Fragrance: Slight and musky
Hardiness: Zone 6

'Rise 'n' Shine'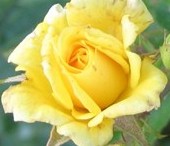 Yolk yellow buds open to bright yellow flowers that fade to lemon yellow and cream with deep yellow stamens in the center. Flowers are produced singly or in small clusters of up to 7. The repeat bloom is so rapid the bush seems to continuously be in flower. Leaves are small, dark, and healthy.
Type: Miniature
Color: Yellow
Size of Bush: 2' H x 1.3"
Size of Bloom: 1.6 x 1.3' W
Fragrance: Strong and musky
Hardiness: Zone 6

'Starina'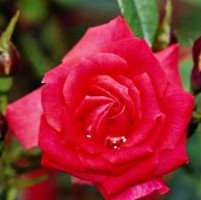 For gorgeous hot color and hybrid tea form, 'Starina' is an excellent choice. The color blends from yellow to orange and vermillion and brightens up any border. Bloom repeats well; leaves are small, and dark green.
Type: Miniature
Color: Orange blend
Size of Bush: 1.3' H x 11.8" W
Size of Bloom: 1.2
Fragrance: Medium and sweet
Hardiness: Zone 6
The roses described above provide a range of color and can be used in a variety of situations. Some are shorter than others and may be more appropriate for some uses than other. Some are wider than others so that fewer bushes will be needed to fill the space. If fragrance is an important concern, consider 'Starina' and 'Rise and Shine'.