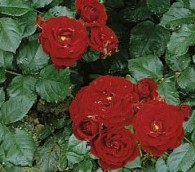 The American Rose Society announced the top exhibition floribunda roses in the March/April issue of their magazine, American Rose. The list is important to people interested in exhibiting roses because it indicates what roses are earning the greatest numbers of prizes in local and national shows. You may have the best 'Tiffany' or 'Mr. Lincoln' in the country but the chances of winning a top honor with either of them is slim.
The five top exhibition floribunda roses are described below. They are the top five in the national list but may not be in the top five of the list for your particular region. Differences in the order of the top exhibition roads for different regions reflect differences in both climate, and the preferences of judges and exhibitors.

'Hannah Gordon'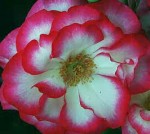 Named for the Scottish actress, Hannah Gordon, this upright rose can be tall and is a good specimen for the back of the border. Classified as a pink blend, the medium sized flowers are a combination of white with cherry red edges on the petals. In cool weather the edging is thick but becomes finer with hot weather. The flowers are borne singly or in clusters of up to nine. At first they have the shape of a hybrid tea but change as they open when the petals develop a wavy edge and reveal the golden stamens. The leaves are bronze at first but become dark green and glossy.
Origin: Kordes, Germany, 1983
Parentage: seedling x Bordure Rose
Flower Size: 4-6"
Petal Count: 20-25
Scent: Mild
Flowering: Repeats well
Plant Size: 4-7' H x 4-7' W
Hardiness: Zone 5
ARS Rating: 8.7

'Lavaglut'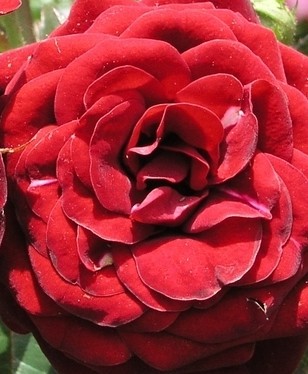 The flowers are dark red and open flat and full of petals surrounding golden stamens. They are usually produced in clusters of 10-20 and remain attractive for a long time. Plants are vigorous, healthy, floriferous and have dark green glossy leaves that start out bronze green. Good cut flower.
Origin: Kordes, Germany, 1978
Parentage: 'Gruss an Bayern' x seedling
Flower Size: 2.5"
Petal Count: 24
Scent: Mild
Flowering: Flushes
Plant Size: 2.5' H x 2.5' W
Hardiness: Zone 5
ARS Rating: 8.6

'Sexy Rexy'
The medium pink flowers of this compact floribunda open flat into camellia like blooms with lightly ruffled petals. They are produced in large clusters of 5-15 on strong straight stems contributing to the popularity of 'Sexy Rexy' as an exhibition rose. In addition, the flowers have a long vase life and are excellent cut flowers. The first flush of flowers is long and heavy, appears late in the season, and is slow to repeat. Diligent deadheading may be necessary to encourage a quick and heavy rebloom. The plant is dense and has dark disease resistant leaves. An excellent rose for bedding, in mixed borders or containers, or used as a hedge.
Origin: McGreedy, New Zealand, 1984
Parentage: 'Seaspray' x 'Traumerei'
Flower Size: 2.8" across
Petal Count: 40
Scent: Mild
Flowering: Late in season, slow repeat
Plant Size: 2.5' H x 2' W
Hardiness: Zones 6 and warmer
ARS: 8.6
Awards: NZ GM 1984; Orleans GM 1988; Glasgow GM 1989; Auckland GM 1990; Portland GM 1990; James Mason GM 1996.

'Playboy'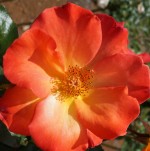 This flashy Floribunda has bright golden yellow flowers with a wide orange-red edging and golden stamens. The mildly fragrant flowers are borne singly or in clusters of three to seven. They have a flat to cup-shaped form and are lightly double with ten petals. The petals have yellow backs and wavy edges that emphasize the contrasting colors. The bush has dark, glossy, healthy leaves is disease resistant and easy to grow. It is a popular exhibition rose with flowers that last a long time on the bush or in a vase.
Origin: Alex Cocker, Scotland, 1976
Parentage: 'City of Leeds' x ('Chanelle' x 'Piccadilly')
Flower Size:3"
Petal Count: 10
Scent: Mild
Flowering: Repeats well
Plant Size: 4' x 4'
Hardiness: Zones 6 and warmer
ARS: 8.5
Awards: Portland GM 1989

'Playgirl'
The flowers open with light purple crimson ruffled petals that later fade to bright pink. A mass of yellow stamens fills the center creating a frilly look. Flowers are borne on long stems sometimes singly but often in clusters of two to seven. The leaves are dark green, glossy and healthy.
Origin: Moore, US, 1986
Parentage: 'Angel Face' x 'Playboy'
Flower Size:3″
Scent:Light, fruity, sweet
Flowering:Repeats well
Plant Size:3' H x 2' W
Hardiness:Zone 5
ARS Rating:8.4