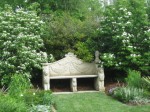 If you have a fairly large garden you may be able to include some small trees. These trees can give a feeling of permanence to the garden and give drama and interest during winter months when herbaceous perennials are dormant. Small trees must be chosen with care so that they do not become too dominant as they mature and shade out the other plants. Those with open, loose branching patterns, slender trunks, and a high canopy are most suitable.
Here are five small trees that will enhance a mixed border.

Eastern Redbud (Cercis canadensis)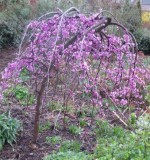 Clusters of vivid pink flowers adorn the leafless stems in early spring and are followed by large attractive heart shaped leaves.
Height: 30-40 feet
Light: Full sun to light shade
Hardiness: Zones 4-9

Kousa Dogwood (Cornus kousa)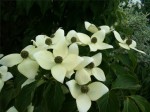 Blooming about a month later than the common dogwood, Kousas have a more upright habit and produce flowers with petals (actually bracts) that are pointed rather than round. In the fall the leaves turn purple red and large, raspberry-like fruits ripen.
Height: 20-30
Light: Full sun to part shade
Hardiness: Zones 5-8

River Birch (Betula nigra)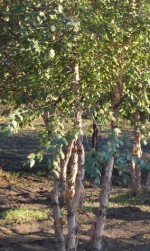 For winter interest, river birch is hard to beat. The bark of the trunk and stem is pinkish gray maturing to dark brown, and exfoliates to give a rough, shaggy appearance. The diamond-shaped leaves produce a light, airy canopy.
Height: 25-40'
Light: Full sun
Hardiness: Zones 4-9

Japanese Maple (Acer palmatum)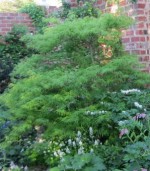 There are so many different cultivars of Japanese maple that there is one for every situation. Small, large, upright, weeping, green, purple or variegated, just decide on a set of characteristics and take your pick. Many are stunning when leafless because of their graceful branch structure. They are even easy to grow in either sun or shade.
Height: 4-25' (varies with the cultivar)
Light: Full sun to part shade (varies with the cultivar)
Hardiness: Zones 5-9 (varies with cultivar)

Golden Rain Tree (Koelreuteria paniculata)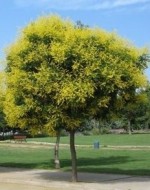 The clusters of yellow flowers produced in summer give this dome shaped tree its common name. Flowers give way to inflated seed pods that resemble Chinese lanterns. The leaves are divided into toothed leaflets that turn yellow in autumn.
Height: 30-40 '
Light: Full sun
Hardiness: Zones 5-9
Using a variety of trees in the garden can provide a rich blend of texture, height, and color. Flowers, seed pods, fruits, autumn coloration, form, and bark can add additional interest to the garden at times when other plants are on vacation. Trees also create micro-environments under their canopies that may provide new niches for favorite perennials that could not grow in the blazing sun. Chose one or two trees to start and explore the possibilities.  If you find new and interesting opportunities, expand with more small trees.