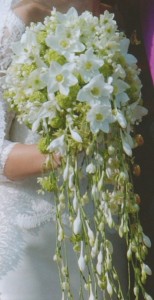 With the announcement of the engagement of Prince William and Kate Middleton everyone began to speculate on the date of the wedding, where it will be held, and who will design the wedding dress. But how about the flowers? The design of the wedding bouquet has grabbed my interest and so I have begun to look at past and present bouquets of the royal weddings in Europe and beyond and found some interesting facts. The design and flowers in Kate's bouquet will not be revealed until the wedding day when over a billion people are expected to watch the wedding, but its fun to speculate just a little on what the bouquet is most likely to look like.
The bouquet will no doubt be designed with the dress, Kate's figure and taste, and the nature of the occasion in mind. Princess Diana was married in St. Paul's which is significantly larger than Westminster Abbey and her large dress and huge cascade-style bouquet were a fitting complement to the shear size of the place.
The fact that Westminster Abbey is smaller than St. Paul's might allow a smaller dress and bouquet. Kate is slim and has developed a style that works well so has many options but a strapless wedding dress or one that reveal a lot of her body is probably not one of them. After all, this is a royal wedding and must be tasteful, elegant, and majestic, and showing a lot of skin in church is not considered appropriate by most of the royals. Most of them have worn long gowns that cover their upper arms as well as their bosom. A notable exception, however, was Tessy Antony who wore a strapless gown when she married the prince of Luxembourg. Her marriage was a bit unconventional in other ways and her husband gave up his title when he married her (although he has since regained it).
Two styles of bouquets seem to be popular among the royal brides; the round nosegay or hand-tied, and the teardrop shaped cascade. The nosegays seem to be very popular today and are featured in most bride magazines. They are smaller than the cascades, round in shape, and may be tight or loose. Queen Victoria, carried a nosegay of snowdrops, Prince Albert's favorite flower. (She is also credited with starting the tradition of wearing a white dress and veil.)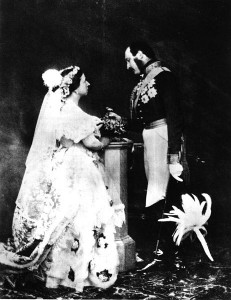 Lady Ulster, married to Alexander Windsor, carried a tight nosegay of red roses.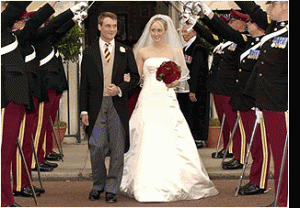 Diana de Cadaval, a Portuguese noblewoman, carried a compact nosegay of corn ears and roses when she married her French prince.
Our own princess, Chelsea Clinton, carried a compact nosegay of gardenias.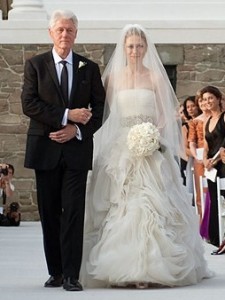 Princess Elena of Spain, on the other hand, carried a hand-tied posy with a loose garden look.
Cascades, however, have long been popular especially with royal brides. A cascade is basically a round posey on top with a pointed part on the bottom. They can be small or large. Princess Martha Louise of Norway had a delicate heart shaped bouquet of lilies of the valley, orchids, and 'Martha' lilies.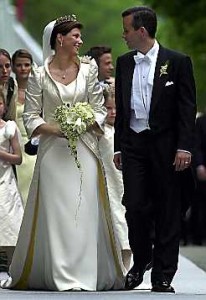 Lady Rose Windsor, daughter of the Duke of Gloucester, carried a small, slim, elegant cascade at her wedding, attended by Kate.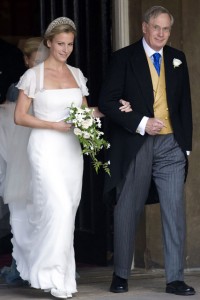 Letizia Ortiz had a large tear drop style bouquet when she married Felipe, heir apparent to the Spanish throne.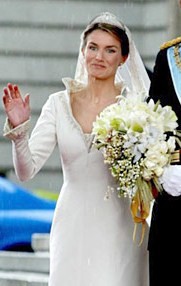 Sophie, Countess of Wessex, carried a bouquet of calla lilies when she married Prince Edward, Queen Elizabeth II's youngest son.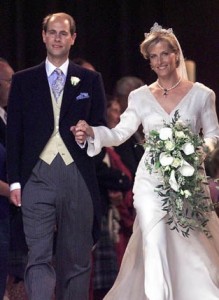 The bride of Peter Phillips, who is 11th in line for the English crown, chose a large and longer cascade. Kate also attended this wedding.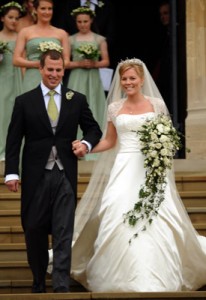 And cascades get larger; take a look at this 'big boy' carried by Mathilde, Duchess of Brabant, when she married the heir apparent to the Belgian throne.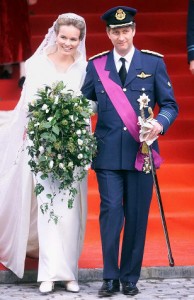 Princess Diana's bouquet is a monster too.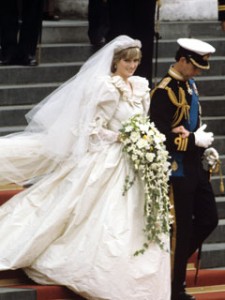 But there are variations on a theme to consider; Fergie carried a crescent-style bouquet that we don't often see.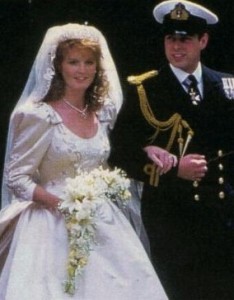 Some bouquets seem to be a hybrid like this one carried by Mary, wife of the crown prince of Denmark. Is it a nosegay with trailing jasmine attached? Or a cascade?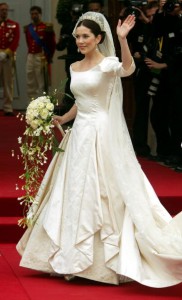 How about this one, carried by Princess Anita of the Netherlands?  Cascade or posy with accessory?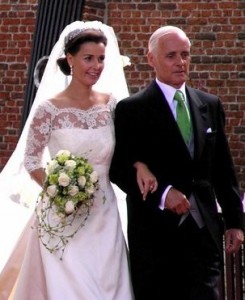 A prize has to go to Mette-Merit, married to the crown price of Norway, who carried a long garland of greens adorned with roses, hydrangeas, and orchids as a muff.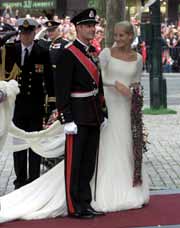 And then there is the gold and diamond bouquet of Sarah of Brunei. Perhaps we should not even consider this one as there is no plant material, live or fake. But who is too say, are gold and diamond flowers not as good as silk flowers?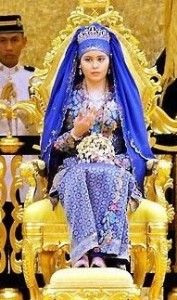 I doubt Kate will go for the gold and diamond bouquet or any bouquet that is not in the mainstream. The present royal family has favored cascades rather than nosegays over the years so Kate will probably do likewise.  I wonder what flowers she will choose once she decides on the style.  That's another post.