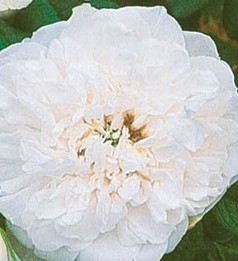 This rugosa rose is hardy, healthy and vigorous, and blooms almost continuously. Its pure white flowers have ten to twenty petals and are 3.5 inches across. They have a strong rich fragrance and are followed by fat orange hips. Unfortunately the flowers spoil in the rain. Prickly stems carry dark green pleated leaves that turn clear soft yellow in the fall. The flowers last well in the vase but it is the leaves that are of special interest for flower arranging. If branches are cut as soon as the leaves turn yellow they will last a long time in the vase and make a bright addition to fall arrangements. A delay in cutting results in leaf fall. Hips are valuable in fall arrangements and flowers dry well for winter arrangements.
Cutting: Cut stems under water
Conditioning: Cut 1-2" slits in stems, remove any leaves that will be in water, remove thorns, and give a long deep drink.
Preserving: Hang stems upside down in dark dry place
Cultivation:
Size
Light:
Full sun; tolerates some shade
Soil:
Fertile, medium moist, well-drained, slightly acidic; tolerates some drought
Hardiness:
Propagation:
Care:
Water deeply once a week, deadhead to encourage rebloom, mulch to retain moisture and keep roots cool in summer, remove diseased leaves as they appear, establish a regular fertilizer routine, prune in late winter to early spring.