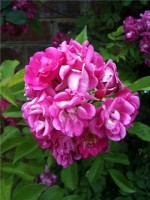 Known for their profusion of flowers, polyantha roses arose in France in the late 19th century. Their parentage is vague but probably involved a China rose and Rosa multiflora, the parent of many ramblers. The result was a relatively small compact bush that produces clusters of small flowers over most of the growing season. The very first polyantha was 'Paquerette', introduced by the French breeder Jean-Baptiste Guillot in 1875. Although the hay-day of polyanthas was in the 1920s and 1930s some of the old cultivars are still being grown.
Polyanthas combine good looks and easy care. They are work well in the border and are especially useful in pots and containers because of their small size and compact growth habit.
Bloom Size: 1-1 1/2" diameter
Bloom Color: white, pink, red, purple, orange, yellow, and blends
Petal Count: 5-25
Form: Variable including cupped, and open but not high centered.
Flowering: Repeat flowering (in waves)
Fragrance: Some are fragrant.
Size of Bush: Usually 2-3' tall but some can reach 5'
Foliage: Finely textured, narrow leaves.
Hardiness: Slightly hardier than hybrid teas; may require mulching if temperatures drop below 10 F.
Disease Resistance: More disease resistant than hybrid teas.
One of the most popular polyanthas is 'The Fairy'. Introduced in 1932 by an English breeder, this pink spreading bush is still very popular. It blooms later than most other roses and has small, ruffled, double flowers with a mild apple fragrant. It is very disease resistant and has received the designation "Earth Kind" rose for its easy care characterisitcs. For more information on Earth Kind Roses see my post on Carefree Roses.
Another 'Earth Kind" polyantha and a personal favorite of mine is La Marne with its single pink flowers.
Although they don't have the 'Earth Kind' designation, the Koster roses ('Margo Koster', 'Dick Koster', 'Margo's Sister' etc) have a very unusual flower and cme in a variety of colors. The diminutive size of the bush makes them idea container plants.
The polyanthas offer a lot of color with out a lot of fuss and are a nice addition to any garden. Their long period of bloom and disease resistance make them an asset to the garden especially for gardeners who don't want to spend a lot of time spraying and pruning. Give them water and fertilizer and they will bloom for you.