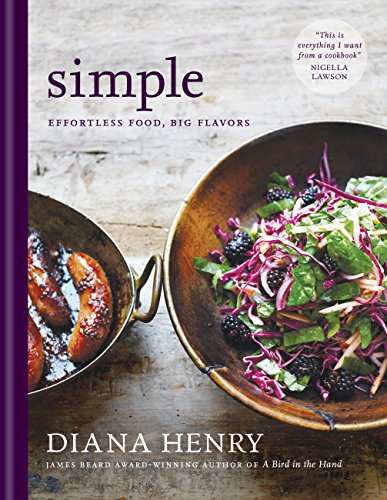 Diana Henry presents an exciting array of recipes in her cookbook, Simple, Effortless Food, Big Flavors. Drawn from an international palette, the recipes offer creative new combinations of flavors that favor economy of effort. They feature a controlled list of ingredients without out sacrificing taste, and easy cooking techniques so that the end result more than justifies the effort.
The recipes are organized by type: eggs, salads, toast, pulses, pasta & grains, fish roasts desserts etc. Each recipe includes an introductory paragraph that includes interesting stories and tips that make the recipes even more appealing. It often includes suggestions for modifying the dish or substituting a familiar ingredient for an expensive or difficult to find one. Although canned beans and tomatoes are used in the recipes, prepared and pre-packaged foods are generally eschewed in favor of fresh. Each chapter includes an insert on some aspect of food like the pleasures of toast, making and cooking pasta, sauces and relishes to make a meal special. Although internationally inspired dishes are included most of the recipes are truly new. Some of the taste tempting ones are: salmon tartare and avocado on rye, pork loin with pumpkin puree and pecorino, and Moroccan-spiced chicken with dates and eggplant. My favorite is orzo with lemon and parsley. How simple is that? But delicious!
The term "simple", however is relative. Although the recipes do not require advanced cooking or excessive amounts of time finding the ingredients is anything but simple. Even when I am living in Los Angles during the winter months I cannot easily find some of the ingredients and I might spend and a whole morning or afternoon finding Nduja, lardo, or cavolo nero. Nduja, for example, is an ingredient in a "no hassle" appetizer so making the appetizer would not be a hassle but finding the Nudja would be. So, before warned that although the recipes are superb, simple might not be the perfect word to describe them if shopping is part of the equation.
To buy Simple effortless Food, Big Flavors from Amazon.com Click Here.