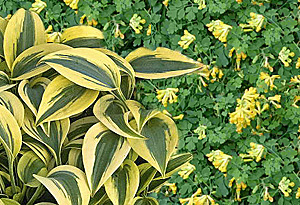 A shady location is the perfect place for this charming combination. Hosta 'Autumn Frost' emerges with its yellow variegated leaves in spring as fern-like leaves of yellow fumitory push through the soil and produce delicate mounds of foliage. Soon afterward fumitory produces masses of small, slender, flowers that vary in color from light yellow to rich gold, echoing the yellow of margins of 'August Forst' host's leaves. Yellow fumitory will continue to produce flowers all summer into fall except in areas of high heat and humidity. Hosta 'Autumn Frost' will continue to look good all season with its yellow margins slowly fading to white. Contrast is provided by the different size, shape and texture of the plants' leaves. Both plants like rich, moist, well-drained soil in part shade to shade.
Yellow Fumitory (Corydalis lutea)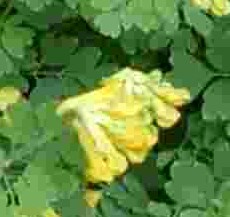 A native of the southern part of the alps and eastward, yellow fumitory is a herbaceous perennial that makes itself at home in diverse places from woodlands to the cracks in walls. It produces small delicate tubular flowers with short spurs in pendulous clusters of five to six. The gray-green foliage resembles that of maidenhair fern with each compound leaf having three scalloped lobes. The leaves are held in overlapping tiers that create a cascade effect.
Bloom Time: May to September
Size: 12-18" H x 12-18" W
Hardiness: Zones 3-8
Hosta 'Autumn Frost'

This shade loving herbaceous perennial offers wide yellow margins on its smooth blue-green leaves in spring. As the summer progresses the margins turn creamy white and remain attractive as lavender flowers on eighteen inch stalks appear in mid-summer. There are many yellow variegated hostas available and others could be substituted in this combination as long as their size and the texture of their leaves is the same.
Bloom time: Mid-summer; leaves provide color from spring until fall
Size 12" H x 24" W
Hardiness: Zones 3-9