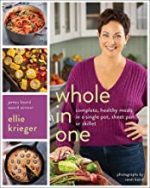 Author and chef Ellie Krieger sets out to produce a collection of healthy recipes that are both tasty and delicious but are also cooked in just pot, sheet pan, or skillet.  The result is her book, Whole in One, that contains a huge array of meals that allow you to pick and choose those that appeal to your taste buds as well as your health.  This is not a book for readers looking for a special diet but rather for anyone who wants variety, flavor, and good nutrition in their daily meals but is time conscious and wants preparation and clean up time to be manageable.
The book is divided into sections based on the main ingredient: vegetables,  meat, poultry, seafood, and dessert.  The recipes in each section are then further sorted according to the essential cooking tool: pot, skillet, baking dish, or sheet pan.  Some of the recipes are twists on old favorites like the falafel burger, mushroom stroganoff soup, and loaded potato nachos, while others reflect the trendy new food showing up on restaurant menus like cauliflower risoto with shrimp and peas, spinach and artichoke shakshuka, or mushroom white bean toasts topped with frisee in sherry vinaigrette.  If you are interested in international foods try the West African peanut stew with chicken, the Russian salad plate, or the Portuguese caldo verde with mushrooms, for example.
Each recipe is presented on a separate page, often with a color photograph of the completed dish. An introduction to each recipe includes useful information such as the unique characteristics of the dish,  substitutions for ingredients, and suggestions for serving.  The ingredients are listed on one side of the page with easy to follow step by step instructions on the other.  The nutritional information appears at the end of the recipe and gives the calories and amounts of various fats, protein, carbs, fiber, cholesterol, sodium, and sugar plus the importance of the dish as a source of vitamins and minerals.
Although Krieger adheres to her goal of one pot, sheet pan, skillet, or baking dish, there are still various tools that are needed to complete most dishes in addition to the one or two bowls she openly admits to so clean up is more than one item.  The ingredient lists usually have 9-15 items most of which can be found in local grocery stores. The selection of recipes is very tempting and well worth the effort it takes to prepare them but many are probably more time consuming than most working moms will be willing to tackle on a nightly basis.  That being said, Whole in One is a winner!
To buy Whole in One from Amazon.com click here.
We want the food we love and we want to be healthy, but who has the time or energy to figure it all out? James Beard Award winner and bestselling cookbook author Ellie Krieger shows you how to create a meal in a single pot, sheet pan, baking dish, or skillet — no additional gadgets or tools required. Divided by main ingredients — meat, poultry, seafood, vegetarian, dessert — and further separated into sheet pan, baking dish, skillet, and pot-cooked meals, the 125 nutritionally complete dinner recipes (plus healthy desserts) can each be prepared simply.
Whole in One puts home-cooked meals within reach by minimizing the work load on both ends of the dinner process — cooking and clean-up — with one pot dishes that check every box. Minimal steps? Check. Crowd-pleasing flavors? Check. Easy-to-find ingredients? Check. Nutritionally complete? Check. Breezy cleanup? Check.